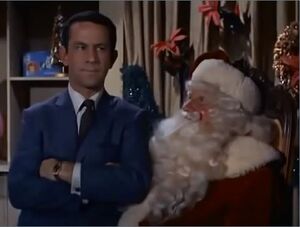 The lowest-numbered CONTROL agent seen on active duty in the original series (other than the interstitially sequenced Agent 8 1/2).
Agent 12 is seen dressed as Santa Claus at Bowers Department Store, a KAOS front managed by Conrad Bunny. He (along with other CONTROL agents planted in the store) is said to have been "taken care of", if not by Bunny himself then possibly by his henchman Gorcheck. However, no body is seen [Episode #4: "Our Man in Toyland"].
Either being "taken care of" is not fatal or the number is reassigned because Agent 12 also attends the 1966 strike meeting of spy union the Guild of Surviving CONTROL Agents (GSCA) hidden in a couch [Episode #32: "Strike While the Agent is Hot"].
Years later, when she is writing her book, Out of Control, 99 reveals that Agent 12 had been her mentor and that she had loved him "like a grandfather." [TV Movie: "Get Smart, Again!"]