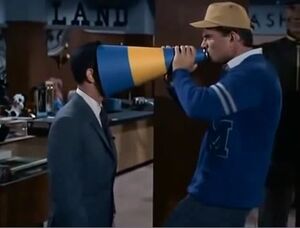 An Agent 25 has appeared on three occasions but it is not clear if any or all of them are the same man.
Agent 25 is first seen posing as a mannequin at Bowers Department Store, a KAOS front managed by Conrad Bunny. He (along with other CONTROL agents planted in the store) is said to have been "taken care of", if not by Bunny himself then possibly by his henchman Gorcheck. However, no body is seen [Episode #4: "Our Man in Toyland"].
Either being "taken care of" is not fatal or the number is reassigned because Agent 25 also attends the 1966 strike meeting of spy union the Guild of Surviving CONTROL Agents (GSCA) hidden in a crate [Episode #32: "Strike While the Agent is Hot"].
Finally, Agent 25 is one of the agents assisting Maxwell Smart in protecting the visiting Prince Abou Ben Boobie. He is disguised as window washer outside the prince's hotel suite where he is accidently killed by Max who mistakes him for a KAOS assassin [Episode #51: "The Man from YENTA"].