Jurassic World: Dominion Dominates Fandom Wikis - The Loop
Play Sound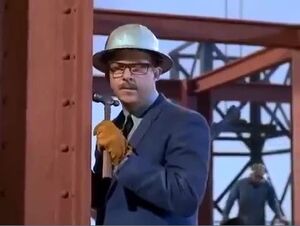 A CONTROL Agent 77 is seen or mentioned on three occasions. It is possible that the first two are the same man,
Unseen agent who reports on the search of Washington airport after the murder of scientist Dr. Pliny [Episode #36: "Casablanca"].
Agent 77 then poses as a building inspector to investigate the Jericho Construction Company which is suspected of being a KAOS front. 77 falls to his death from one of the company's buildings. According to Maxwell Smart, who witnesses the tragedy, he "broke his glasses and everything". [Uncredited, Episode #52: "Smart Fit the Battle of Jericho".]
The number is later assigned to Chuck Armstrong who, unknown to CONTROL, is actually an ape controlled by renegade scientist Dr. Mathew Rath. Ironically, Armstrong is also killed by a fall from a building - the top of Max and 99's apartment building. [Portrayed by Charles Bateman, Episode #122: "The Apes of Rath".]
In addition, in a comic story predating all of the above, Agent 77 is seen throwing a bucket of water on an explosives-laden animated wax dummy of Maxwell Smart which turns out to be the real Max after all [Comic Story #3: "The Dumb Dummy"].