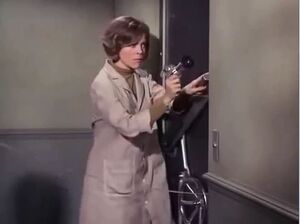 Assistant to Professor Windish in the CONTROL laboratory, actually a KAOS infiltrator who steals his electro-retrogressor gun in order to disrupt an important conference that the agency is hosting.
She attempts to divert suspicion by pretending to be under the influence of the gun herself. In doing so she gives herself away by saying she wants to watch Captain Kangaroo, but Max deduces she must be faking because Captain Kangaroo wouldn't have been on television when she was a child.
Portrayed by Barbara Bain [Episode #7: "KAOS in CONTROL".]
Trivia: Ironically Bain is now better known for her portrayal of IMF agent Cinnamon Carter on the Mission: Impossible TV series. Her husband and co-star Martin Landau appears in Episode #113: "Pheasant Under Glass".