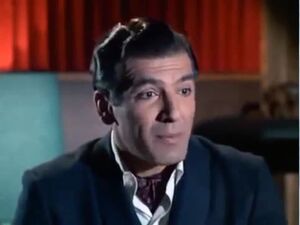 Spanish KAOS agent who poses as a playboy while operating as a saboteur under the nom de guerre of "The Blaster".
Carioca's previous targets have included the Washington Monument and the National Archives Building, both of which he blew up remotely from his luxury yacht El Amador anchored in the Potomac River under the cover of spending the evening with CONTROL Agent 99.
He returns to Washington in 1966 with plans to destroy the Internal Revenue Building using the same method.
Portrayed by Edmund Hashim [Episode #34: "The Only Way to Die"].
Reality Check: The first two names pay obvious homage to the Brazilian musician Antonio Carlos Jobim while the "Carioca" was a popular song and dance, as well as a reference to the people of Rio de Janeiro.