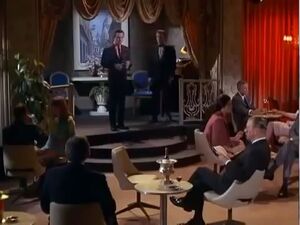 Venue in Las Vegas where KAOS agents Baron von Krupa and Frank Lloyd Joshua hold a secret meeting
CONTROL agent Charlie Watkins works undercover there as a cigarette girl.
[Episode #52: "Smart Fit the Battle of Jericho"].
Reality Check: The Arabian Nights Hotel may be a reference to the Arabian Nights-themed Dunes Hotel on the famous Las Vegas Strip.