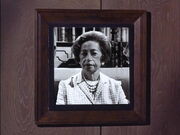 Aunt Rose may refer to:
1. Relative of Maxwell Smart.
When Max is shocked to learn that his Aunt Rose was once impersonated by KAOS disguise expert Alexei Sebastian he anticipates that it will come as an even greater shock to his Uncle Harry. [Episode #11: "Too Many Chiefs".]
2. Unseen resident of the seedy Baltimore hotel where Max confronts the KAOS agents who framed him for murder. Apparently the aunt of the hotel desk clerk who warns her (among others) that the police have arrived [Episode #78: "Don't Look Back".]
Reality Check: The face in the photograph illustrating Max's Aunt Rose is that of Rose Michtom who was actually the aunt of Get Smart executive producer Leonard Stern. Ms Michtom made brief appearances in numerous Get Smart episodes but had only one credited role - the airplane passenger who complains that her donut isn't working in "Closely Watched Planes" (episode #89). For more see The Aunt Rose Files.