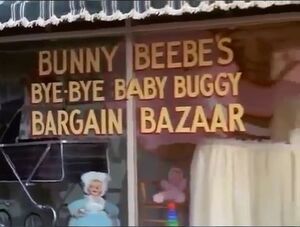 Retail establishment on Barnaby Boulevard which sells baby supplies.
Maxwell Smart and a pregnant Agent 99 visit the shop to contact Agent 44 for instructions on their latest assignment. 44 is disguised as a baby in one of the baby carriages and the instructions are in the form of a talking doll.
While there, Max and 99 also pick up an Armed Baby Carriage constructed by the CONTROL weapons lab which they identify by a label stating a price of "$99 marked down to $86".
Bunny Beebe's Bye-Bye Baby Buggy Bargain Bazaar on Barnaby Boulevard should not be confused with Barbie's Bye-Bye Baby Buggy Bargain Bazaar is on Balboa Boulevard.
[Episode #114: "Ironhand".]