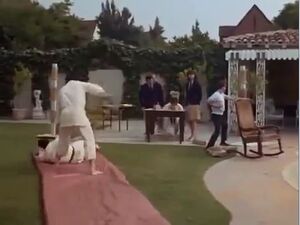 Facility located next door to Mrs. Green's house where would be CONTROL agents receive instruction on spycraft, weapons proficiency and martial arts under the leadership of Dean Watson.
Instructors
[
]
Other than Agent 99, who poses as one for an undercover assignment, the only instructor seen is special weapons expert Hillary Gainsborough (who turns out to be an impostor) [Episode #3: "School Days"].
However, it is known that the Chief was an instructor at the school as well as being coach of its baseball team at the time that Maxwell Smart was a student [Episode #130: "The Mess of Adrian Listenger"].
Max also mentions as an old instructor a Fred What's-his-name, although that was not his real name [Novel #1: "Get Smart!"] and Max himself also takes a turn on a temporary basis [Episode #93: "A Tale of Two Tails"].
Students
[
]
Presumably, all CONTROL agents attended the school. The following list is of those either seen as students or specifically referenced as having been such.