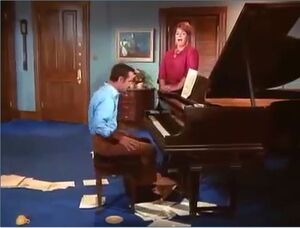 Self-playing grand piano which uses cartridges upon which are recorded the repertoire to be played.
Used by Maxwell Smart to accompany Madame Rosa La Costa, CONTROL's singing agent, on an undercover mission to rescue the captive Professor Phineas Pheasant from KAOS.
The inventor of the computer piano is not stated but it may be Dr. Simon who invented the Computer Trumpet.
[Episode #113: "Pheasant Under Glass".]