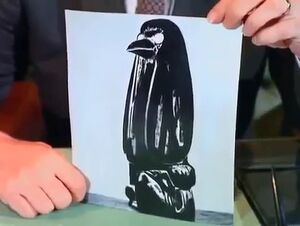 Millionaire art collector whose pursuit of the legendary Tequila Mockingbird cost him his life.
Parmenter was 30 when he first bought the statuette from a Hindu sailor in the city of Tequila, Mexico, but 10 years later, it was stolen by a Chinese accountant. At the age of 52, Parmenter was able to buy it back at an auction in Beirut; 10 years later, it mysteriously disappeared again.
He spent the next 50 years searching for it, eventually dying of old age.
[Mentioned, Episode #103: "Tequila Mockingbird".]