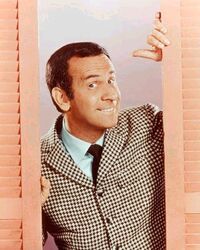 Don Adams was the actor who played Maxwell Smart in the original Get Smart TV-Series, The Nude Bomb, Get Smart, Again! and the Get Smart 1995 revival series. He was born on April 13, 1923 in New York City, New York, USA. He died on September 25, 2005 in Los Angeles, California, USA.
In addition to Get Smart, Don Adams appeared on The Bill Dana Show, The Partners, The Don Adams Screen Test and Check It Out, and was the voice of Inspector Gadget (and of the dog in the "Inspector Gadget" movie).
Other Get Smart Characters
[
]
During the series Max encounters a number of lookalikes which of course are also portrayed by Adams.
Episodes as Director
[
]
Don Adams directed 13 Get Smart episodes:
Episodes as Writer
[
]
Adams also wrote two episodes of Get Smart in collaboration with his sister Gloria Burton:
74: "The King Lives?"
107: "To Sire, With Love, Part 2"