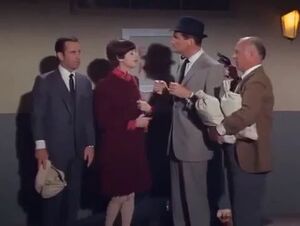 Bank in the Washington, DC, area from which a gang of KAOS agents led by Jerry Dobring plans to steal $5,000,000 in cash.
However, when they attempt to recruit safe-cracker Jimmy Ballantine to help them, Ballantine informs the authorities and his place is taken by Maxwell Smart and the robbery is thwarted.
[Episode #35: "Maxwell Smart, Alias Jimmy Ballantine".]
Reality Check: The Federal Reserve Bank in the episode is presumably part of the United States Federal Reserve central banking system but does not appear to correspond with any actual location.