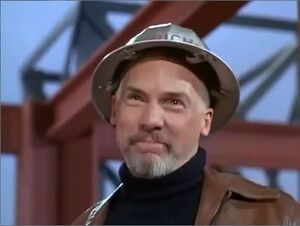 "Every day closer to completion is a day closer to demolition."
— Frank Lloyd Joshua.
KAOS agent and owner of the Jericho Construction Company.
Through his company, Joshua builds buildings to be occupied by U.S. Government space agencies, only to destroy those buildings by means of pre-planted explosives when the agencies have made "too much progress".
Portrayed by William Chapman [Episode #52: "Smart Fit the Battle of Jericho"].
Reality Check: The character's name is a combination of those of the noted architect Frank Lloyd Wright and the Biblical hero Joshua famous for the Battle of Jericho.