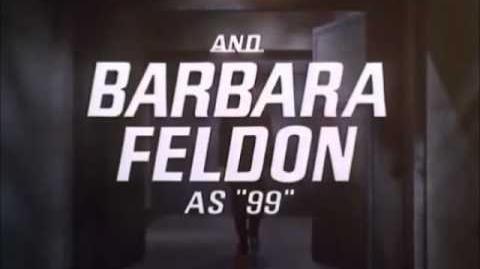 Broadcast on CBS, 1969-70; 26 episodes.
Produced by Chris Hayward.
Executive Producer: Arne Sultan.
Several significant changes mark Get Smart's defection to CBS: Max now drives an Opel GT, the opening credits now begin with opening shots of several Washington monuments, Irving Szathmary's theme music is now rescored with a more contemporary feel, and all identifying lettering is now a sans serif font, which no longer follow Max behind the closing doors in CONTROL but instead zoom at the screen. And would you believe that this is the only season of Get Smart where episode titles are revealed preceding the writing and directing credits during the sub-main titles?
"Title visualization" is credited to Reza S. Badiyi.
| Episode | Title | Original Airdate | Writers | Director |
| --- | --- | --- | --- | --- |
| 01 | Pheasant Under Glass | September 26, 1969 | Chris Hayward, Arne Sultan | Don Adams |
| 02 | Ironhand | October 3, 1969 | Lloyd Turner, Whitey Mitchell | Don Adams |
| 03 | Valerie of the Dolls | October 10, 1969 | Les Colodny, Ed Haas | Jay Sandrich |
| 04 | Widow Often Annie | October 17, 1969 | Lloyd Turner, Whitey Mitchell | Charles Rondeau |
| 05 | The Treasure of C. Errol Madre | October 24, 1969 | Chris Hayward, Bob DeVinney | Don Adams |
| 06 | Smart Fell on Alabama | October 31, 1969 | Lloyd Turner, Whitey Mitchell | Alan Rafkin |
| 07 | And Baby Makes Four | November 7, 1969 | Arne Sultan, Chris Hayward | Don Adams |
| 08 | And Baby Makes Four, conclusion | November 14, 1969 | Arne Sultan, Chris Hayward | Don Adams |
| 09 | Physician Impossible | November 21, 1969 | Lloyd Turner, Whitey Mitchell | Alan Rafkin |
| 10 | The Apes of Rath | November 28, 1969 | Lloyd Turner, Whitey Mitchell | Richard Benedict |
| 11 | Age Before Duty | December 5, 1969 | Bob DeVinney | Harry Falk |
| 12 | Is This Trip Necessary? | December 12, 1969 | Dale McRaven | Ron Joy |
| 13 | Ice Station Siegfried | December 11, 1965 | Arne Sultan, Chris Hayward | Reza S. Badiyi |
| 14 | Moonlighting Becomes You | January 2, 1970 | Chris Hayward | Alan Rafkin |
| 15 | House of Max | January 9, 1970 | Chris Hayward | Tony Leader |
| 16 | House of Max, conclusion | January 16, 1970 | Chris Hayward | Tony Leader |
| 17 | Rebecca of Funny-Folk Farm | January 23, 1970 | Lloyd Turner, Whitey Mitchell | Charles Rondeau |
| 18 | The Mess of Adrian Listenger | January 30, 1970 | Chris Hayward | Charles Rondeau |
| 19 | Witness for the Execution | February 6, 1970 | Lloyd Turner, Whitey Mitchell | Alan Rafkin |
| 20 | How Green Was My Valet | February 13, 1970 | Gloria Burton | Dick Carson |
| 21 | And Only Two Ninety-Nine | February 20, 1970 | Arne Sultan | Don Adams |
| 22 | Smartacus | February 27, 1970 | Lloyd Turner, Whitey Mitchell | Charles Rondeau |
| 23 | What's It All About, Algie? | April 24, 1970 | Arne Sultan, Chris Hayward | Don Adams |
| 24 | Hello, Columbus - Goodbye, America | May 1, 1970 | Pat McCormick | Alan Rafkin |
| 25 | Do I Hear a Vaults? | May 8, 1970 | Chris Hayward | Alan Rafkin |
| 26 | I Am Curiously Yellow | May 15, 1970 | Lloyd Turner, Whitey Mitchell | Nick Webster |