Jurassic World: Dominion Dominates Fandom Wikis - The Loop
Play Sound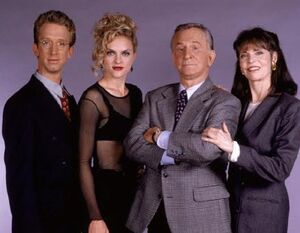 Get Smart is a short-lived American comedy television series that aired in 1995 on FOX. The series was developed as a sequel to the original Get Smart television series and its followup, Get Smart, Again!. It starred Don Adams, Andy Dick and Elaine Hendrix. The series premiered on January 8, 1995 and ended its original run on February 19, 1995. According to the credits, it was created by Michael J. DiGaetano and Lawrence Gay "based on the original series" but with no mention of Mel Brooks or Buck Henry. [1]
Overview
[
]
As established in Get Smart, Again!, Maxwell Smart (Adams) is the Chief of CONTROL. 99 has become a politician and their bungling son, Zachary (Dick) has become a CONTROL field agent. Zachary is teamed with the reluctant (and much more experienced) Agent 66 (Hendrix) as they try to stop KAOS' evil plans.
Production
[
]
The show failed to recapture the spirit of the original, and low ratings with every episode receiving an average of 5 million viewers earned the series the 1995 yearly rating chart rank of 133.[2] There were not high hopes for the series as Andy Dick had already moved on to NewsRadio, which premiered weeks later in 1995.[3]
Cast
[
]
Regular
[
]
Recurring
[
]
Notable Guests
[
]
Episodes
[
]
No.
Title
Directed by:
Written by:
Original airdate
1
"Pilot"
Nick Marck
Michael J. DiGaetano
Lawrence Gay
January 8, 1995
Things have certainly changed around CONTROL over the years. Maxwell Smart has become the Chief; 99 has become a Congresswoman; and their son, Zach, has become an agent very much like Max — intellectually lacking, yet always successful. Now, Zach is assigned a new partner in Agent 66 and a new mission. The Dutraculon fabric is targeted for theft by the still operational KAOS. With a fashion show as the backdrop, some undercover work gives Zach and 66 their only chance to stop the traitorous Larz.
2
"Casino Evil"
Nick Marck
Michael Carrington
Gary Apple
January 15, 1995
Under the supervision of a Mr. Monte, a new and popular casino is in business. Problem is, the whole thing is a KAOS front. While many people chalk up their big losses to bad luck, they have actually been secretly cheated. Taking this operation down falls to the undercover Zach and Agent 66. However, can they win when the house is always poised to do so?
3
"Goodbye Ms. Chip
Nick Marck
Lawrence Gay
Michael J. DiGaetano
January 22, 1995
African President Mazabuka is due to arrive in America for a diplomatic occasion involving Congresswoman 99. Meanwhile, CONTROL is on the trail of The Brain, a KAOS agent and a master of mind control. He proves his capabilities by getting the drop on 66 and installing one of his brain implants in her. Now, KAOS has the assassin for their plot against Mazabuka. If Zach and others fail to notice 66's increasingly odd behavior, she will succeed.
4
"Shoot Up the Charts"
Nick Marck
Gary Apple
Michael Carrington
January 29, 1995
When KAOS Incorporated murders the only recording artist on their label, Agent 66 auditions as a singer named 'Galaxy' with Zach pretending to be Randy Starr, her agent and pianist, in an attempt to stop KAOS brainwashing people with a song encrypted with hypnotic messages.
5
"Passenger 99"
Nick Marck
Lawrence Gay
Michael J. DiGaetano
Febryuary 5, 1995
Agent 99 attends a plane flight with a foreign minister back to his country to finish their agreement on mineral rights, however an assassin called 'The Turtle' has been called into service by KAOS to kill him on the flight. Zach and 66 discover the murder plot and proceed on the case by acting as flight attendants to protect the minister and 99.
6
"Wurst Enemies"
Nick Marck
Craig Hoffman
February 12, 1995
Zach has recently begun dating Jessica and things seem pretty good between them. However, a rendezvous at a lighthouse suddenly turns sour when she imprisons him. She has done this on the order of her father, Siegfried. He is still evil and has huge plans, including settling the score with his arch-foe, Maxwell Smart. Blackmailed with his son's life, Max must confront Siegfried again and alone. As it happens, Max must not only save Zach, but also America's most brilliant minds from a missile. A cliffhanger ending has Siegfried just leaving the lighthouse room when Max accidentally activates the missile; the teaser shows the missile blowing up the lighthouse.
7
"Liver Let Die"
Nick Marck
Lawrence Gay
Michael J. DiGaetano
February 19, 1995
Zach and Agent 66 go undercover as doctors to investigate why KAOS has been buying hospitals; they discover the KAOS medical staff are harvesting organs from the living to then sell them to rich individuals as part of the KAOS 'Project Robin Hood'. However, before the duo can escape to headquarters and expose the truth, the staff find out they are CONTROL agents and try to harvest them next.
DVD release
[
]
The Complete Series of the 1995 series was released on June 3, 2008 by Sony Pictures Home Entertainment in anticipation of the release of the 2008 major motion picture Get Smart.
References
[
]
External links
[
]