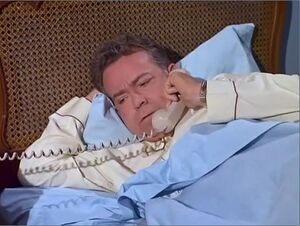 Holloway may refer to:
CONTROL agent who is Maxwell Smart's seventh choice to be Best Man at his wedding. Due to security concerns over his previous choices, Max takes the unusual step of issuing the invitation by telephone at four o'clock in the morning. Nevertheless, KAOS is at the ready and Holloway is shot immediately after accepting. [Portrayed by Paul Hahn, Episode #92: "The Worst Best Man".]
CONTROL agent who is also a musician. Holloway is unavailable for assignment to rescue Professor Pheasant because, along with Agents Marco and Curtis, he is in Las Vegas for a gig. [Mentioned, Episode #113: "Pheasant Under Glass".]
Community content is available under
CC-BY-SA
unless otherwise noted.