Get Smart Episode #132, Season Five #20.
Plot
[
]
Max and 99 pose as a valet and maid to infiltrate the Bulmanian Embassy where a container of stolen rocket fuel is believed to be hidden.
Synopsis
[
]
Characters
[
]
Others
[
]
Weapons and Gadgets
[
]
Locations
[
]
Trivia
[
]
Except for the birth episode (#120: "And Baby Makes Four, conclusion"), this is the only one with a scene featuring an actual baby as one of the twins - presumably the boy since the crib is trimmed in blue. (Episode #124: "Is This Trip Necessary? included an hallucination where one of them appeared as a baby alligator.)
The closing "wrong number" scene is a remake of the tag from the original pilot "Mr. Big".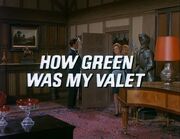 Reality Check
[
]
The title refers to the 1939 novel and 1941 film How Green Was My Valley.
The naming of the ambassador's assistant "Zachary" is an apparent reference to guest star Jonathan Harris's most famous role as Dr. Zachary Smith in the TV series Lost in Space. His appearance in this episode also marks a reunion with Don Adams as both had earlier co-starred in The Bill Dana Show. In a further coincidence, Julie Bennett, who plays Zachary, previously appeared in Episode #66: "Supersonic Boom", in which Dana had a cameo.