"There is nothing as inconspicuous as a conspicuous car." - Maxwell Smart, "Operation Ridiculous".
During his career as a secret agent Maxwell Smart drives a number of different vehicles.
Ferrari
[
]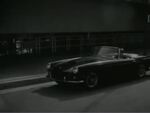 The first car Max is seen driving is a Ferrari 250 Cabriolet, which he takes from Symphony Hall in Washington to CONTROL Headquarters, conveniently located across the street [Episode #1: "Mr. Big"].
Sunbeam Tiger
[
]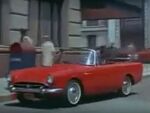 From 1965 to 1969 [Seasons One, Two, Three and Four], Max drives a red open-topped Sunbeam Tiger.
In fact, there are at least three of these; one is blown up when Max forgets to tell a repo man about the explosive gas pedal [Episode #48: "Cutback at CONTROL"] and another - possibly two - is totalled in a crash [Episode #53: "Where-What-How-Who Am I?"]. Each loss is seemingly replaced by an identical car.
At various times, the Sunbeam is fitted with the following devices:
Exhaust Pipe Machine Gun
Poisonous Gas from Radiator
Cigarette Lighter Hand Grenade
Explosive detonated by Gas Pedal
Oil Slick from tailpipe
Smoke Screen from front or rear
Radar antenna and screen
High-velocity .50-caliber machine gun under hood
Passenger-side ejector seat
Note: Hollywood director Otto Hurrah drives a light blue version of the same vehicle [Episode #60: "A Man Called Smart, Part 3"].
Karmann Ghia
[
]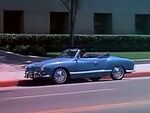 In 1967, Max acquires a blue Volkswagen Kharmann Ghia.
Although he is seen driving it only once [Opening credits, Seasons Three and Four], he retains possession of the vehicle until 1995 when he finally sells it [GS95 Episode #1: "Pilot"].
Opel GT
[
]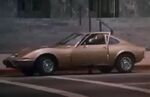 In 1969 Season Five, Max switches to a gold Opel GT.
Again, there are at least two, with one being destroyed by errant canon fire from an Armed Baby Carriage from Bunny Beebe's Bye-Bye Baby Buggy Bargain Bazaar on Barnaby Boulevard [Episode #114: "Ironhand"].
Other cars
[
]
In the first Get Smart novel Max has "a long, black, shiny, custom-built automobile" equipped with a machine gun in the rear turret, a 20 mm. cannon in place of the lower left headlight, and a smoke screen which is emitted from the exhaust pipe.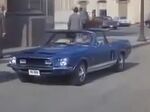 When the Chief is kidnapped, Max wins his car, a 1965 Ford Mustang Zebra, in a raffle held to raise his ransom [Episode #9: "Satan Place"]. What Max does with this car is unknown but the Chief later demonstrates the special features of an identical-looking vehicle called the ZFB 600 which he describes as "a triumph of automotive engineering and the most ingeniously-conceived fighting machine in existence." [Episode #10: "Our Man in Leotards".] The Chief later obtains another Mustang, a Shelby GT500, which Max also drives on occasion [Episode #91: "Diamonds Are a Spy's Best Friend" & Episode #93: "A Tale of Two Tails"].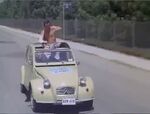 Max and 99 tail Professor Sontag in a CONTROL Tracking Car. This is a 1966 Plymouth Sport Fury [Episode #14: "Weekend Vampire"].
On Max's wedding day, his regular car is being fixed so he and best man Admiral Hargrade are driven to the ceremony by Dr. Madre in a loaner, a 1961 Citroën 2CV AZLP [Episode #95: "With Love and Twitches"].
In 1980, while working for PITS, Max takes to the streets in a Counterattack Furniture D-1 Turbocharger Deskmobile [Move: "The Nude Bomb"].
In 1989, when recalled to active duty by the United States Intelligence Agency, Max is driving a red Alfa Romeo [TV Movie: "Get Smart, Again!"].
External Links
[
]