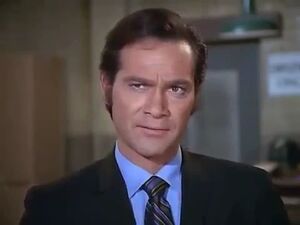 Designer and manufacturer of bedroom sets which he sells from a large warehouse located on Harbor Boulevard in Washington DC. Once suspected once of selling bedroom sets to iron-curtain countries he was dubbed "Put a red in your bed" Melnick.
Melnick Archer is the KAOS agent behind the kidnapping of Agent 99 and her replacement with a double as part of a scheme to kill her husband Maxwell Smart and have her jailed for the murder.
Portrayed by H. M. Wynant [Episode #133: "And Only Two Ninety-Nine"].
Reality Check: Melnick Archer, Melnik the Smiling Killer and the Melnick Uranium Mines are all named after Dan Melnick, a partner with Leonard Stern and David Susskind in Talent Associates, whose idea it was originally to produce a TV show satirising the spy craze. See also Pete "the Kid" Melnick, named after Melnick's son.