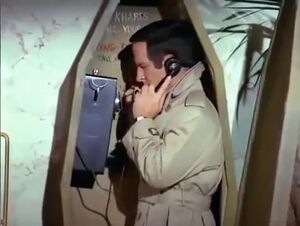 Telephone in a mummy case at the National Museum in Cairo.
The case is part of an exhibition from the Tomb of Kanin Ra, which a sign says has just returned from loanout to the Washington Museum of Natural History, Smithsonian Institution.
Since Maxwell Smart emerges from the coffin after-hours it appears that he may have travelled from Washington inside it, similar to way that KAOS previously used mummy cases as transport [in Episode #49: "The Mummy"].
[Episode #126: "Moonlighting Becomes You".]