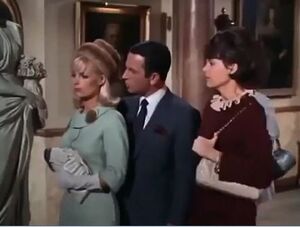 Princess Ingrid of Scandinavia (also at one point called 'Miss Svensson') is in Washington in 1965 for her annual visit. When it is feared that she has been targeted for kidnapping by the evil Oriental arm of KAOS, Maxwell Smart and Agent 99 are assigned to protect her.
Max had met the princess five years earlier while her father was in the U.S. to speak at the United Nations. Max recalls her then as a "sweet, freckle-faced fifteen-year-old". Five years on, her amorous attitude toward him and her determination to "have some fun" give 99 cause for jealousy.
Max's plan is to take her on a tour of the city's shrines and monuments - the White House, the Lincoln Memorial, Washington Monument, the Smithsonian Institute, and the National Art Gallery - but the princess wants to go dancing.
Portrayed by Inger Stratton [Episode #2: "Diplomat's Daughter". Ingrid also appears in the Get Smart coloring book, albeit identified only as "a Scandinavian princess".].