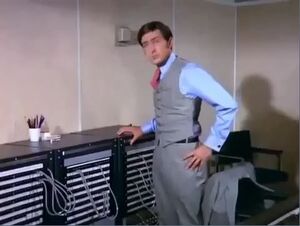 Sound engineer working on the Hannibal Day radio drama program.
Rodger Hammerstein is eventually revealed as the KAOS agent who has been using the show to transmit messages to KAOS agents overseas, including inserting code into the script for the play, Death in the Cemetery, when Day, who has taken credit for the script, admits that Hammerstein is the real author.
Hammerstein, however, does not wait for that revelation. As the play is still being broadcast he hides behind a curtain with a gun but is seen and shot by Maxwell Smart who has joined the program in the guise of sound effects man Tuttle.
Portrayed by Ron Husmann [Episode #126: "Moonlighting Becomes You".]
Reality Check: The name "Rodger Hammerstein" refers to the songwriting duo of Richard Rodgers and Oscar Hammerstein II who were responsible for a string of hit musicals including Oklahoma!, The King and I and The Sound of Music.