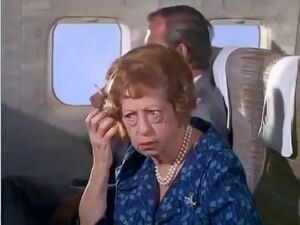 Actress who makes uncounted cameo and extra appearances throughout all five Get Smart seasons.
In fact the aunt of Executive Producer Leonard Stern, her photograph is used in Episode #11 "Too Many Chiefs" to depict Max's Aunt Rose (although, technically, it is KAOS disguise expert Alexei Sebastian).
Other notable appearances of Rose Michtom include Mae in "The Little Black Book, Part 2", the photographer's mother in "Operation Ridiculous" and the bag lady in "Run, Robot, Run".
Her only credited role is that of the Woman Passenger in "Closely Watched Planes" who, after seeing Max using a doughnut phone, asks if she can have it because "mine isn't working".
For more see: