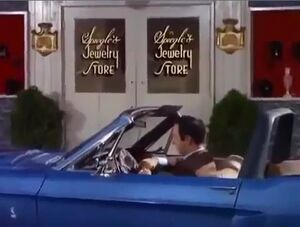 As it's name implies, a jewelry store owned by a Mr. Spiegle.
The store is easy to find, being as Maxwell Smart explains, "right around the corner from Spiegle's Drugstore, next to Spiegle's Delicatessen, where Spiegle's Cleaners used to be", this being at 4th and Spiegle.
Max visits the store to purchase an engagement ring for 99, unwittingly interrupting a robbery by members of KAOS's League of Bald-Headed Men.
[Episode #91: "Diamonds Are a Spy's Best Friend.]