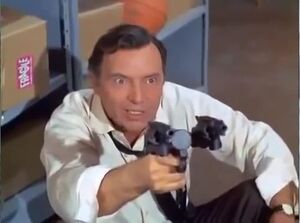 Double-barreled "12-shooter" which KAOS is smuggling into the country.
CONTROL fears that if KAOS succeeds in arming its agents with the weapon they will be outshot two to one.
In the end, however, the device turns out to be nothing more that a gun-shaped radio, its Japanese manufacturers having taken the specification "stereophonic" literally.
[Episode #102: "The Day They Raided the Knights".]