Get Smart Episode #117, Season Five #5.
Plot
[
]
When KAOS hijacks a payroll intended for CONTROL, the Chief sends Maxwell Smart to search for a lost Mexican goldmine to replenish CONTROL's operating capital before they go out of business permanently.
Synopsis
[
]
Characters
[
]
Others
[
]
Weapons and Gadgets
[
]
Locations
[
]
Trivia
[
]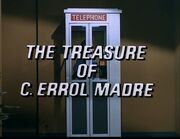 Reality Check
[
]
This episode is a parody of the 1948 film The Treasure of the Sierra Madre starring Humphrey Bogart as "Fred C. Dobbs", providing Don Adams with his third and final opportunity to showcase his Bogart impression as Max impersonates prospector "Frogsie Debs", the first two being Episode #36: "Casablanca and Episode #65: "Maxwell Smart, Private Eye".
The episode also reveals a never before seen (and never seen again) elevator in the corridor that Max walks along in the opening and closing credits. The scene of the CONTROL agents squeezing into it and then spilling out into the corridor when the door is opened parodies the famous "stateroom scene" from the Marx Brothers' 1935 film A Night at the Opera.