Men's necktie with a tube concealed at its back for holding liquids such as a truth serum.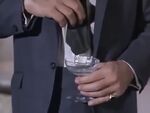 Turning a spigot on the tie clasp causes the liquid to flow out, for example into to drink of an unsuspecting KAOS agent.
Supplied by Professor Parker [Episode #15: "Survival of the Fattest"].