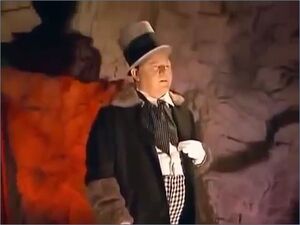 American comedian best known for his movies of the 1920s and '30s.
A wax figure of W.C. Fields, looking somewhat out of place among the grotesqueries of Duval's Cave of Wax, is brought to life by the operator Raoul Duval by means of his injectable serum and ordered to eliminate Maxwell Smart who has infiltrated the museum in the guise of a wax Adolf Hitler.
As befits his persona, he agrees to forgo the task in exchange for a decanter of daiquiris.
"And that would make you pretend you didn't see me?," Max asks.
"I won't be able to see you."
Wax figure of W.C. Fields portrayed by Bill Oberlin [Episodes #127: "House of Max" and #128: "House of Max, conclusion"]. For more on the real W.C. Fields see the Wikipedia article.